Laser (light amplification by stimulated emission of radiation) is a familiar tool in the medical field. High energy in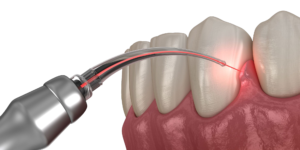 the laser beam have an ablative and disinfectant effect in human tissues. The laser does coagulate capillary endings, thus the tissue cut during the surgery would be with minimal bleeding.
There are different types of lasers used in the dental field. Dr. Ash has an extensive background in laser dentistry. He has more than ten dental laser research articles published and cited in peer-reviewed journals. At this point, Dr. Ash implements Diode laser as an adjunct tool during surgical procedures such as frenectomy, crown lengthening, periodontal pocket disinfection and etc.
If you are afraid of surgery and prefer the use of recent technology with minimal bleeding, ask Dr. Ash about surgery with Laser.
Published laser research by Dr. Ash:
1- Laser-Assisted Regenerative Surgical Therapy for Peri-implantitis: A Randomized Controlled Clinical Trial, Journal of Periodontology, accepted for publication (May 2020)
2- Laser Treatment of Peri-implantitis; a Literature Review. Journal of Lasers in Medical Sciences, Fall 2014;5(4):153-62
3- The effect of low-level laser therapy on pain reduction after midpalatal expansion in rats. Journal of Dentistry (Tehran), 2015;12(9):655-61
4-Effects of Er,Cr:YSGG laser treatment on human gingival fibroblast attachment and viability and morphology of root surface. An in-vitro study, Journal of California Dental Association. 2016; 44 (5): 291-6
5- Evaluation of temperature change during antimicrobial photodynamic therapy with two different photosensitizers in dental caries. Photodiagnosis and Photodynamic Therapy. 2016;14: 115-18
6-Evaluation of the Effect of Different Laser Activated Bleaching Methods on Enamel Susceptibility to Caries; An In Vitro Model. Journal of Lasers in Medical Sciences. 2017 Aug 30;8(3):62-7.